Ingredients:
1 cup chopped onions
2 cloves minced garlic
4 tblsp Portuguese olive oil
1 lb Portuguese Chourico (cut in slices)
2 cans fava beans ( you can also use dry fava beans but need to precook them)
1 tblsp Portuguese crushed peppers
1 tblsp parsley
1 cup of beer
water
Process:
Brown onions, garlic in olive oil.
Add slices of chourico and crushed peppers
Add Fava beans and beer.
Simmer until well heated.
Add salt, pepper and parsley.
This dish should be saucy therefore add water if needed.
Note: if you make this dish with "dry favas" you should pre-soak favas over night and cook them just a you do with dry kidney beans.
You will also need to use more water in order to get the saucy consistency of the "Favas Guizadas."

Remember to visit portuguesefood.com as we sell all the ingredients necessary for this dish.
Enjoy!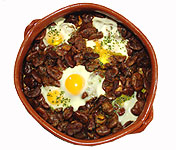 ( Recipe from "Portuguesefood.com" by A. P. DeJesus)